Founder Dr. Meena Balakrishnan
Board-Certified Orthodontist
I graduated as valedictorian from the University of Pennsylvania Dental School, completed my orthodontic residency, and earned my masters in Oral Sciences at the University of Illinois at Chicago.
I am board-certified and a member of Omicron Kappa Upsilon, a national dental honor society, the American Association of Orthodontists, and the Midwest Society of Orthodontists. I have held faculty positions in multiple countries and have spoken at professional conferences both nationally and internationally.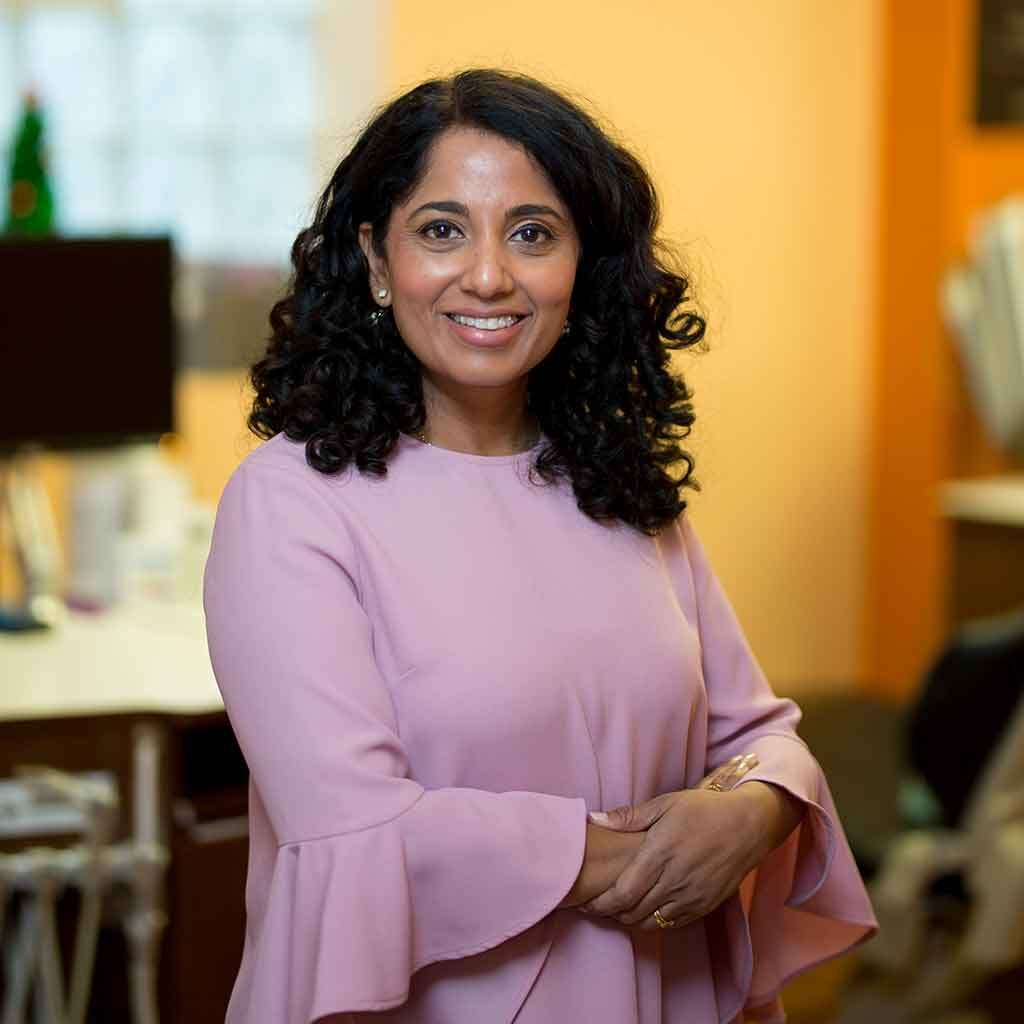 Watch the Video Below to Learn More About Dr. Balakrishnan
I have won several awards throughout my career. I received Gold Medals for 1st rank in Orthodontics, Restorative Dentistry and Endodontics, Periodontology, and Prosthodontics from Bangalore University. I was awarded Master Carver of the Clinic and Research Day at the University of Illinois at Chicago, and received the merit award for Periodontology in 2003 from the University of Pennsylvania School of Dental Medicine in Philadelphia, PA.
I have participated in various studies in the orthodontic industry and have published multiple articles, including Anzilotti C, Vanarsdall RL, and Balakrishnan M: Adolescents Treated with Rapid Palatal Expansion – An Evaluation of Post-Retention Gingival Recession, 2003 and Biological Markers for Root Resorption, 2001. I was a keynote speaker at the 41st Indian Orthodontic Society Annual Conference in Chennai, India, and have given professional presentations to groups such as the American Academy of Dental Research Annual Conference in Orlando, FL.
Committed to continuing a family tradition of excellence, my husband and I both practice in the greater Chicago area. My husband (Dr. Balu Natarajan), a Downers Grove North High School graduate, is a Sports Medicine physician practicing in Chicago.
He also won the National Spelling Bee in 1985 and is the only Chicagoan ever to win the title. Both my husband and I are proud Chicagoans. We have been married for over 20 years and have two sons, named Atman and Advaith.
Our eldest son, Atman has also competed in the National Spelling Bee which in turn is keeping our family tradition of excellence alive. Our younger son Advaith is also an aspiring speller. You can find out more about how we keep the tradition alive by watching the video featuring Atman and our family below.
Not only am I committed to my family but my hobbies include running, biking, cooking, reading, and yoga. I am also trilingual in English, Hindi, and Tamil, which allows Downers Grove Orthodontics to help as many patients in Chicagoland as possible.
Meet Founder Dr. Meena Balakrishnan - Schedule Your Appointment Today
To experience our award-winning orthodontic care, schedule your Free Downers Grove Smile Assessment today by calling (630) 515-2727. You may also click here for our convenient online form. Your appointment includes the following:
Digital X-Rays
Complete Examination
Discuss Your Goals
Custom Treatment Plan Tailored to Your Budget
BONUS - Free Copy of Dr. Balakrishnan's Book, Grin And Wear It: The In-Depth Guide to Your Child's Orthodontic Care
During your appointment, we will take the time to answer all your questions about our advanced treatments and technology, our flexible payment options, and anything else you may want to know about us!